Estonia concerned about possible hybrid attack from Russia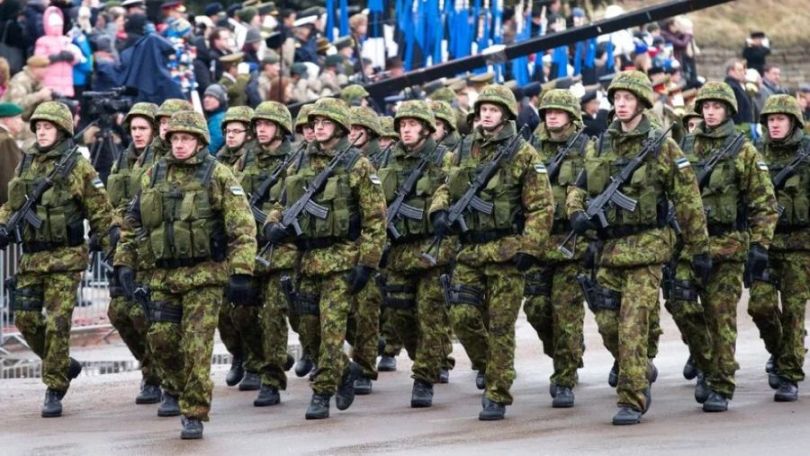 "We are watching carefully", Margus Tsahkna warned in an exclusive interview with Euronews.
Estonia's Foreign Minister has said he is "concerned" about a possible hybrid attack from Russia.
Speaking exclusively to Euronews, Margus Tsahkna said: "There are hybrid threats. But we never know what kind of hybrid situation may happen. We have witnessed them before as well."
He suggested Russia could "test the borders" not only of Estonia, but also those of NATO and the EU, with Tallinn inside both blocs.
"We are watching carefully. We are working very closely with our allies on the border."
Estonia, a small Baltic country and former part of the USSR, shares a nearly 300km border with Russia. The Ukraine war has heightened security concerns inside the country, with Tallinn fearing a revisionist Russia.
Hybrid threats mix military and non-military tactics, covert and overt means. They include disinformation, cyber-attacks, economic pressure, deployment of irregular armed groups, and use of regular forces.
Tsahkna cited the example of Poland and Lithuania, which also share borders with Russia or its ally Belarus, saying Tallinn has "witnessed and understands definitively" their concerns.
Fears have grown in both countries about a possible Russian provocation, with Polish Prime Minister Mateusz Morawiecki warning in August both Moscow and Minsk were "increasing pressure" on the borders.
However, Tsahkna said Estonia was "not afraid" of the threat posed by Russia.
"I cannot use the word afraid because this is a normal part of our life. But we must be ready to act."
"We have been living here for hundreds and thousands of years."
Estonia has dramatically increased military spending since Russia invaded Ukraine in Feburary, with the government agreeing to raise it to 3% of GDP for 2024 - 2027.
The country's Prime Minister Kaja Kallas has enthusiastically backed Kyiv, however she was recently hit by a scandal surrounding her husband's business dealings in Russia.
Commenting on this crisis, Tsahkna said: "I cannot see any damage or whatever, the word is too strong. It's much more of a domestic question."
Opposition politicians have called on Kallas to resign, though her husband maintains she did not know about his economic interests inside Russia.
"I think that most of the questions have [been] answered [about the scandal]. But this is a domestic issue. It doesn't harm our foreign policy."
It is "morally wrong to have business with Russia to feed the Putin war machine," he continued. "We understand as well that EU as a whole has a long way to go actually shut down this kind of business."
A Euronews report in August found there were significant cracks, loopholes and blindspots in the West's sanctions regime against Russia.
However, the Estonian FM said there was "another side to story" surrounding the business interests of Kallas's husband, Arvo Hallik.
"I'm really happy that Estonian society and Estonian people are very straightforward about the moral understanding to stop any kind of business with Russia," he told Euronews. "I cannot see this common understanding globally."
This is a worry. What we must do, all together in European Union as well... [is] to stop the business [with Russia] altogether. Estonia cannot do it alone."
He pointed to Estonian's "ongoing" fight for the EU's next round of Russia sanctions, now in their 12th incarnation.
The FM said he would soon hand over a draft law to the Estonian parliament on using frozen Russian assets for Ukraine and Europe.
Faced with slow Ukrainian advances in its counteroffensive, Estonian FM Tsahkna said Tallinn was in it for the long haul.
"This is a hard fighting, they're [Ukraine] losing a lot of capabilities, but they do it for us, it has been always long-term commitment," he said.
"This is not a movie we are watching from our cosy couches. We must be ready to support with the long-term commitments."
Ukraine launched its counteroffensive to dislodge Russian forces in June. Ukrainian forces have encountered stiff resistance, with Moscow having several months to dig in and prepare.
Similar articles:
Общество → Русские выбирают Эстонию
Эстония → Эстония: краткая справка
История → Эстония - Земля русских предков
Политика → В Эстонии победили разрушители советских памятников