Alika Milova will represent Estonia at Eurovision 2023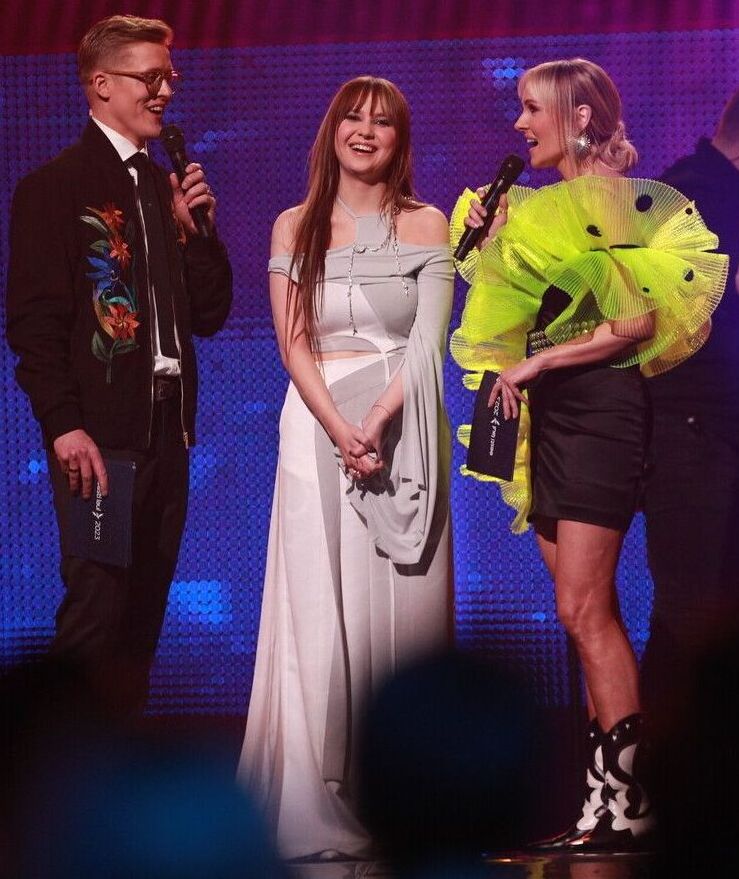 Alika won Eesti Laul 2023 with the song "Bridges" and will represent Estonia at Eurovision 2023. "Bridges" was written by Alika herself, Nina Sampermans, and Wouter Hardy.
The very last show of Eesti Laul 2023 was broadcast live from Tallinn's Tondiraba Ice Hall.
Estonian actor Tõnis Niinemets and Estonian singer Grete Kuld were in charge of hosting the show which lasted about 4 hours, with a 30-minute break halfway through for news. While the show was opened by an Estonian version of "Hope," the second part of the national selection's final was guided by Stefan (Estonia 2022) himself who also performed another song.
After the jury and the televote shared their thoughts on who the best candidates were, a superfinal was held with the three higher-scored songs and, once all was said and done, Alika went home with the victory and the responsability of representing the country in Eurovision:
Alika
Alika Milova, professionally known as ALIKA, is a 20-year-old Estonian singer who rose to fame after competing in the most recent edition of her country's American Idol, which she ended up winning. Regardless, she had already competed in other singing shows such as The Baltic Voice, New Wave Junior, Kaunas Talent and Berlin Perle.
Alika is known for her indie-pop register and for her powerful voice. After competing in Estonian Idol, she signed a record deal with Universal Music Estonia and every song she released became a smash in the country.
Despite being new to Eurovision, all eyes are on her since her song "Bridges" was co-written by Wouter Hardy, who helped create "Arcade" (Netherlands 2019) and "Tout l'univers" (Switzerland 2021).
Eesti Laul 2023
Three shows were held for Eesti Laul 2023 with a total of 20 songs:
Semi-final 1: 12 January 2023
Semi-final 2: 14 January 2023
Final: 11 February 2023
10 songs competed in each of the two semi-finals, and in each there were two rounds of voting. In the first round, the result was determined by a jury's vote and televoting by the television viewers; and in the second round only by televoting. If ERR decided, statistics from users' internet engagement could also have been utilized as a factor in the first round results.
In the final, an international jury had a 50% say in determining the three songs that progressed to the Superfinal. The members of the international jury were:
Alma (Finland)
Birgit Simal (Belgium)
Kat Reinhert (USA)
Lucas Gullbing (Sweden)
Deben Aderemi (UK)
Matthew Tryba (USA)
Anja Roglic (Serbia)
Joe Bennett (USA)
Tomi Saarinen (Finland)
Yves Shifferele (Switzerland)
Estonia in Eurovision
Estonia has participated in the Eurovision Song Contest 27 times, first in 1994, competing every year except 1995.
Estonia has managed to qualify for the Grand Final 8 out of 18 times.
Estonia has won just once, in the year 2001, with the song "Everybody," performed by Tanel Padar and Dave Benton and 2XL.
Estonia last won the Eurovision Song Context in 2001 when Dave Benton, Tanel Padar, and 2XL triumphed with the song "Everybody". Tallinn hosted the following year's final as per Eurovision tradition (save for this year), and the Saku Suurhall (now the Unibet Arena) was constructed as the venue.
Singer Alika is to represent Estonia at the Eurovision Song Contest 2023 after winning Eesti Laul Saturday evening, bagging 42 percent of the overall vote.
Alika thanked all the finalists in her victory speech, adding all deserved to make it. "There are not so many words in my Estonian language vocabulary to be able to put a sentence together nicely."
To her supporters, she said: "I want to say a big, big thank you for believing in me, and that this energy reached you. Thank you very much for being there."
Held at the Tondiraba Ice Hall in Tallinn and hosted by singer Grete Kuld and comic Tõnis Niinemets, Eesti Laul is the competition to find Estonia's Eurovision entry, and the final followed the two semi-finals heats last month, from which 12 songs progressed to Saturday's final. The semi-finals themselves were contested by 20 entrants, whittled down from the original shortlist of 40 late last year. The shortlist in turn was taken from over 200 original entries.
Ollie with the song "Venom", and Bedwetters, with their entry, "Monsters", were runners-up.
Voting on the night took place in two phases and was a hybrid of votes from an 11-member international jury including artists, producers, songwriters and others, from various European nations, plus phone voting. The top three, Alika, Ollie and Bedwetters, made it to the "super final" after the first round, while the overall winner was determined by phone-voting only.
The other entries were: Meelik who sang "Tuju", Janek, with the song"House Of Glass", Sissi , with "Lighthouse", Inger ("Awaiting You"), Andreas ("Why Do You Love Me"), M Els ("So Good (At What You Do)"), Anett ja Fredi ("You Need To Move On"), Elysa ("Bad Philosophy") and Mia "Üks samm korraga".
Musical interludes were performed by several artists, including last year's Eesti Laul winner/Eurovision entrant Stefan, veteran composer and musician Rein Rannap, and singer Karl-Erik Taukar.
Alika will next go to Liverpool, England, hosting the grand final on May 13, in lieu of last year's winners, Ukraine.
She will have to make it through the semi-finals first, and is due to perform in the second heat, on May 11.
Similar articles:
Музыка → Эстонию на конкурсе Евровидение 2012 будет представлять Отт Лепланд
Музыка → Начался предварительный этап конкурса Eesti Laul 2013
Музыка → Таня Михайлова представит Эстонию на "Евровидении 2014"
Музыка → Таня Михайлова: подготовка к Евровидению идет полным ходом
Музыка → Таня Михайлова приступила к репетициям в Копенгагене