Estonian President Toomas Hendrik Ilves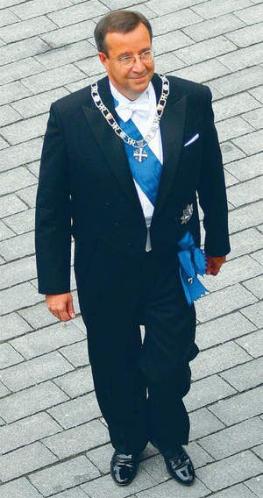 The new president, nominated by a bloc of nationalist right-wing parties, is an absolutely pro-Western politician. At the same time, he will become the first head of Estonia who does not speak Russian.
About the President of Estonia, our dossier.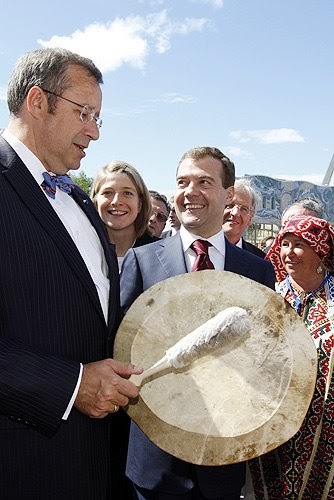 Personal data
Thomas Hendrik Ilves was born on December 26, 1953 in Stockholm in a family of Estonians, lived in America. He was the Minister of Foreign Affairs of Estonia. Married, has 2 children.
Work biography
Thomas Hendrik Ilves was born on December 26, 1953 in Stockholm into a family of Estonians. His parents fled Estonia from the vicissitudes of war. When he was three years old, the family moved to the United States. Ilves' father and mother worked, they did not give the child to kindergarten, and it was the Russian-speaking grandmother who was sitting with little Thomas. Grandmother spoke Estonian to the child, but the child perceived not only the Estonian language, but also the Russian accent of the woman. While in America, all members of the Ilves family spoke only Estonian. However, Thomas attended an ordinary school. The child also preferred to read books in Estonian. But the difficulty was that at 13, when Thomas literally plunged into books on history, philosophy, physics, he noticed the limitations of his home language. He did not have enough words in Estonian to convey the concepts that I came across in books. His father's specialty was applied mathematics; he knew mathematical terms in Estonian, but still this was not enough. After graduating from an ordinary American school, but having good knowledge that was given to him in his family, he easily entered Columbia University in 1972. There he received knowledge in experimental psychology. He graduated from the Psychology Department of Columbia University in New York in 1976 with a bachelor's degree, and in 1978 defended a thesis for a master's degree in psychology at the University of Pennsylvania in Philadelphia. He was engaged in experimental psychology, published a number of articles and a monograph on this specialty. For a long time he taught at universities in the USA, Canada and Germany. This knowledge was very useful to him in politics - because in order to achieve a result it is necessary to understand both enemies and allies. University knowledge helped him in another aspect. He was engaged in a lot of mathematics, statistics, and knowing statistics, he could perfectly distinguish between true facts and dummy documents of last resort. Especially useful was the knowledge of statistics when Ilves worked at Radio Free Europe in Munich from 1984 to 1993. During this period, he went from working as a researcher to the director of the editorial staff of the radio. The first four years he worked there as a research assistant. (The RFE consisted of two parts: one directly prepared the programs, and the other served as a research institute). Did statistical analyzes. The reports on the state of the national economy of the Estonian SSR were, in his opinion, false from almost the beginning to the end, but here one could also draw something that allowed an objective idea of ​​the state of affairs to be drawn up. After Estonia regained independence in 1991, Ilves moved to the homeland of his ancestors. In 1993, he became the Ambassador Extraordinary and Plenipotentiary of Estonia to the USA, Canada and Mexico. He twice headed the Ministry of Foreign Affairs as part of various political coalitions (1996-1998 and 1999-2002). In the same period when Ilves first became the Estonian Ambassador to the United States, in 1993 he defiantly renounced American citizenship. From 1999-2002, he again became the Ambassador Extraordinary and Plenipotentiary of Estonia to the United States. In 2002-2004, he was a member of the Estonian Parliament from the Moderate party, later renamed the Estonian Social Democratic Party (SDPE). He later became a member of the board of the SDPE. In 2004, Thomas was elected to the European Parliament, where he holds the post of deputy chairman of the Commission on Foreign Affairs. There he is active in developing tolerance and tolerance. Whoever Thomas Ilves did not work on, his career record includes such posts as: Member of the Riigikogu, Minister of Foreign Affairs of the Republic of Estonia, Chairman of the Council of the North Antlatic Institute, Ambassador of the Republic of Estonia to the USA, Canada and Mexico, Analyst, Researcher and Head of the Estonian Editorial Board at the Free Europe radio station, professor at the University of Simon Fraser, administrator and director of the Literature Center in Vancouver (Canada), deputy director of the Center for Open Education in New Jersey (USA) and tent at the Department of Psychology at Columbia University (USA), Member of the European Parliament. In recent years, Ilves has shown cautious balance in matters related to relations with Russia. So, he spoke out for the rejection of the political preamble to the Estonia-Russia border treaty, which led to the unwillingness of the Russian side to ratify the document. The newly elected president considers the reunification of society and the protection of state values ​​to be his main tasks. He is also confident that the head of state should monitor the ethical decisions of the authorities.
Information about relatives
One of the president's grandmothers was Russian, Alexander Chistoganov. His grandfather lived in St. Petersburg for about twenty years and wrote several books on dairy farming. These books are kept by Thomas at home. In St. Petersburg, the grandfather met Alexandra, who became his wife. After the Bolshevik coup, the family left for Estonia, but in the house of Thomas's mother they constantly spoke both Estonian and Russian. My mother's grandmother was Orthodox, his grandfather was a Lutheran, his father's family was Lutheran. Mother is baptized, confirmed and married in the Lutheran Evangelical Church. The president's parents grew up in Estonia: his father is a mathematician, and his mother, now living in New Jersey, is a psychologist. His family left Estonia during the offensive of the Soviet Army in the fall of 1944, leaving for Sweden. In the sixties, the family emigrated to the United States.
Personal life
Thomas Ilves is currently married to Evelyn Ilves. They had a daughter, Kadri Keyu, who is now 3 years old. Spouse Evelyn now lives on a farm, raising a daughter, but not only. She is a very enterprising lady, trying to restore the farm, but this requires a very serious investment, and Evelyn has the idea of ​​setting up a small hotel there. With his first wife, Marie Bellock, Thomas is divorced, but the relationship has remained good, friendly. From his first marriage, he has a daughter, Julia Kristiine, 13 years old, and a son, Luukas Kristjan, 18 years old, who is now studying at Stanford University. The son writes articles on foreign policy. Luukas and Thomas constantly communicate on the Internet, exchange opinions, argue on political issues. Four years ago quit smoking. In recent weeks, using the technique of weight watchers, he lost 10 kg of weight.
Long dinners and lunches with good wine when working in Brussels are inevitable. Two weeks ago, the doctor recommended that he pay attention to his weight. He is not involved in sports, he is involved in physical activities, doing work on the farm. He loves a loose, sometimes sloppy style. Ilves is known around the world as a man who adores wearing a bow tie. In Estonia, Ilves attracts attention with his love for the coat, under which he puts on both a suit and jeans. If necessary, it can be very representative. But without chewing gum, he does not leave the house. He complains that there is not enough time to sleep: either collect signatures, then travel around Europe, but "when you see the bestow, you get charged." Journalists - those who dare to try - are treated to "honest" village moonshine infused with herbs. For a snack - potato pancakes with meat. He is very picky about food, prefers Belarusian cuisine - pancakes, a machanka. He knows how to cook a real Uzbek pilaf. The provision obliges you to cut your hair shorter. He prefers a more sporty style in clothes, but he had to buy a black coat, suits - again, position. With her first wife, Natalia maintains good friendships.
Hobbies
Ilves calls his hobbies foreign policy, reading, Mediterranean cuisine, the restoration of Erma Farm and the construction of a library. He loves walking in the woods and working in the fresh air. At one time, he worked as a forest fireman in one of the US states.
Enemies
Any politician has enemies, someone more, someone less. The main opponents of Ilves are the deputies from the Social Democratic Party, the Reform Party, in particular, Aarne Veedla, the "Republic" and "Isamaalite". Attempts to make money were thwarted by the Secretary General of the Social Democratic Party, Rhine Org, who tried to publicize the activities of the current president. As a result of the actions of the Secretary General, a strong scandal erupted. It must be assumed that at the stage of the election campaign, Ruutel, the former president of Estonia, also became one of Thomas's enemies.

Companions
Thomas Ilves advised Lennart Mary for quite some time. First met him in 1985, in Helsinki. Then, being abroad, they called up. After the restoration of independence in Estonia, there were very few people who were somehow related to Estonian foreign policy. Lennart invited to work in Estonia as a foreign policy specialist. And Maryu Lauristin was always on Thomas's side and at that time, with her categorical character, finally convinced him to come to Estonia. The main argument of these two comrades-in-arms was expressed in one phrase: "After what you have been saying to us on the air of" Free Europe "for years, you have no moral right to stay in the West and enjoy the prosperity there. Your place is here in Estonia! " Among his close friends there are many characters from the Estonian student community, among whom he has many people who enjoy his trust. We can safely say that more than 30% of Estonians are also supporters of Thomas. A recent survey showed that Ilves wanted to see the president of 37% of the population.
Weaknesses and weaknesses
If you try to evaluate his character in one word, then this word will be the word "impudent". Able to experience anger for a long time.
Strengths
He is fluent in Estonian and English, can speak German and Spanish at a good level, and reads in French. Protects its people and subordinates. He believes that if you want to achieve something in foreign and in general in politics, then you need to persistently, calmly and pragmatically go towards this goal, without attaching importance to some unpleasant little things.
Merits and Dips
If you look at the activities of Ilves with the eyes of a Russian citizen, you can find much more negativity and failures in his political activities. But even among all the negative acts one can always find objectively positive or neutral pages of a biography.
For example, Ilves condemned President Arnold Ruutel for refusing to come to Moscow on May 9, 2005 to celebrate the 60th anniversary of Victory Day. He advised Ruutel to go to Moscow for the May 9th celebration. In his opinion, this is an important date, and, remembering the fallen in this war, he did not want to again focus on who was fighting on which side. After all, the Germans arrived in Moscow, by the way.
"We wouldn't lose anything by abandoning the preamble and visiting Moscow on May 9," Ilves said as Minister of Foreign Affairs.
"If we want our relations with the Russian Federation to improve, we must understand for ourselves what is essential and what is insignificant," says Thomas Ilves, focusing on maintaining calm in interstate affairs.
Speaking about the fate of the monument "Bronze Soldier", Ilves spoke in favor of preserving it in its present place, but changing its "ideological content".
Building his political line as president, he intends to enlarge this subject of world space. The enlargement will not be territorial, but political. "We need to play a more prominent role in Europe. Take initiatives. To ensure that we are taken seriously. To have what Europe can offer, "says Thomas Ilves.
He plans to get rid of the status of a newcomer to the EU within five to ten years and learn to play a prominent role in it. Its goal is to make Estonia look like Luxembourg, one of the developed small countries in Europe and the world.
Russian-speaking population in Estonia and the Baltic states in general. In the future, he sees Russians and Estonians on equal terms. He also declares the creation of such an Estonian state, where people will not want to leave, and those who once left will want to return. Now, in his opinion, the Estonian state should make every effort to keep people here. And first of all - Russian speakers. But this idea did not occur to him because he was a philanthropist. The fact is that with the accession to the EU, the possibilities of seeking a better life have expanded, and if earlier the young Russian Estonian man said to himself: "I will stay in Estonia; I like it more here than in Russia, "now he can say:" I like it better in England (or Ireland) - I'll go there! "
The EU directive, which entered into force on January 28, 2006, grants a permanent resident of an EU member state who has been resident in it for at least 5 years a free right to travel around the EU countries along with citizens of these countries. This means that Estonia may lose a significant part of promising, competent, initiative Russian-speaking youth.
Estonian media called the current election campaign the dirtiest after the restoration of independence in 1991. Supporters of former President Arnold Ruutel accused him, Thomas, of not only arrogance, but also of being a cosmopolitan who lived most of his life in America and knows little about Estonia and the Estonian people. Ilves is the first president in the history of two Estonian republics (Konstantin Päts, Lennart Meri, Rüütel), who does not speak Russian.
This is so: the freemason and Jew Thomas was sent from the United States with the goal of not only creating another amorphous state, but also finally quarreling with Russia. By themselves, such people do not appear. One can come to power only with the support of political parties and influence groups. In the Baltic states, for many people who have influence over the media and political parties, a curator from the USA is an additional positive psychological factor. He is a president from the USA, he does not have a Soviet mentality; in which case, he will be able to ask for help from the USA better than the local Estonian.
The US geopolitical plan - encircling Russia in the anti-Russian ring - is being put into practice systematically and consistently. By the way, with the victory of Ilves, representatives of the titular nation - immigrants from the USA became presidents of all Baltic countries.
This behavior of Estonia can be called the syndrome of "younger brother." At first they did not want to be dependent on the USSR, but now they are completely subject to the United States.
As for relations with Russia, Ilves spoiled them from meeting Russian journalists. This is one of his failures in relations between Russia and Estonia - rude behavior. As Minister of Foreign Affairs, he introduced himself to Russian journalists as he sat on a table. Disrespect at the first meeting did not provide the best impression, moreover, his credibility was spoiled.
Even when he was Minister of Foreign Affairs, he proposed not to respond to angry statements emanating from Russia, but to approach the matter from an exclusively pragmatic point of view and achieve the impossible.
He also acted pragmatically on the border issue, but was one of the more reserved politicians. "Our goal is a border treaty, and we do not need to emphasize again that we are an independent state 15 years after the restoration of independence. This is already clear. And since we have been operating for 15 years on the basis of legal succession with the pre-war Republic of Estonia, then why again to remind Russia of this? " But the external balance turned out to be a perverted reflection of what was in reality. Ilves escalated the situation on the political sidelines.
Compromising evidence
Although he rejected and rejects all the rumors about his possible collaboration with the CIA, the assumptions did not subside. At the same time, not a single fact about Ilves as a US agent is known to the public. In addition to the fact that a few years before he joined the Free Europe radio station, the radio station was funded by the CIA. Ilves rivals inside the Social Democratic Party believe that part of the money paid by the European Parliament to the Tallinn office went to his wife. Ilves, of course, also rejected and rejects all accusations of this. During his tenure as Minister of Foreign Affairs, the government allocated 13 million kroons to Evelyn Int-Lambot to develop the Estonian Welcome to Estonia sign, which clearly did not justify the money spent on its development. He quarreled with the Secretary General of the Social Democratic Party, Rain Org, who tried to delve too deeply into the monetary affairs of the party and Ilves himself. Recently in Estonia with anti-Semitic implications it has been claimed that Ilves hides his Jewish origin. At the same time, Aarne Veedla, a member of the reform party, said in front of the public that presidential candidate Thomas Hendrik Ilves belongs to karaites who profess Judaism. While still at Columbia University, Ilves himself spoke about his relations with the Karaites. It has also been repeatedly said that the real president is associated with Masons. By the way, there is a Masonic sign on the Estonian 50-kroon banknote. It is believed that the rise to power of Ilves is a clearly planned US action. The right person, a Cold War veteran, has been put in an important position. The purpose of his rise to power is to drive wedges between the EU and Russia. From compromising personal life: returning to Estonia from the United States, he first lived with his wife, then left her, moving to live in the residence of the government. He hid from the public the fact of living with Evelyn Int-Lambot, because he had not yet been divorced from Marie Bellock.
Similar articles:
Государственное устройство → Государственное управление