Estonian troops serving on foreign missions awarded mission medals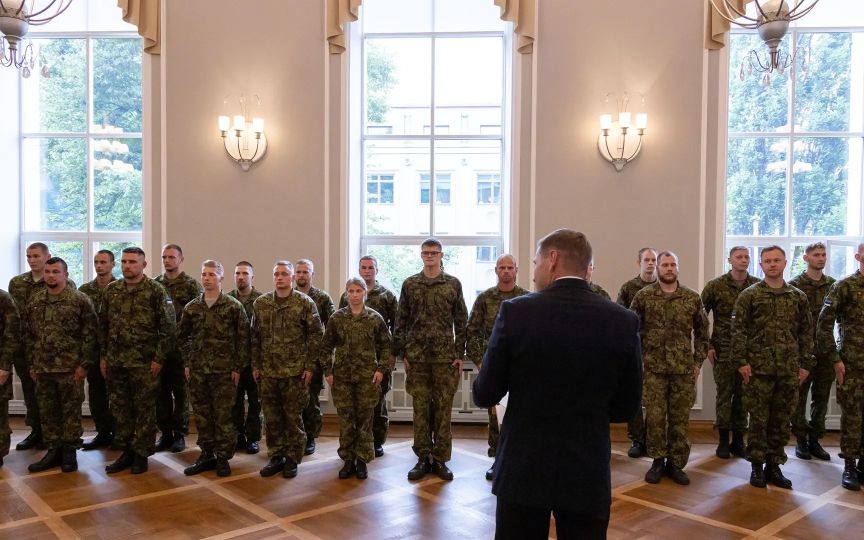 Minister of Defense Hanno Pevkur bestowed mission medals in recognition of service to 68 Estonian troops who have served on international operations.
Minister of Defense Hanno Pevkur awarding mission medals to Estonian troops who have served abroad. July 27, 2022
In a ceremony held Wednesday, the defense minister awarded medals to Estonian troops or their service in operations and missions in Mali (Barkhane, UN peacekeeping mission MINUSMA and EU military training mission EUTM), Iraq (NATO training mission NMI, U.S.-led international military operation Inherent Resolve), Lebanon (UN peacekeeping mission UNTSO), Israel (UN peacekeeping mission UNTSO), Italy (EU military mission EUNAVFOR MED) and Mozambique (EU military training mission EUTM), according to a ministry press release.
"Estonia has been participating in the foreign missions and operations of NATO, the EU, the UN as well as those of our allies and their coalitions for 27 years," Pevkur said. "Thousands of servicemembers and members of the Estonian Defense League (KL) have gained and brought home invaluable experiences. And, most importantly, the professionalism and dedication of Estonian fighters has always earned praise."
According to Pevkur, the security situation took a serious turn for the worse on February 24 — when Russia launched its ongoing full-scale invasion of Ukraine — which is why it is critically important, alongside Estonia's allies, to focus on NATO's collective defense.
"Estonia has never been as well protected as it is now, but at the same time, the threat coming from the East has never been so acute," he said. "We must work hard, take into consideration the lessons learned in Ukraine and apply those experiences to our situation in order to strengthen Estonia's defensive capability. We here know that 'every quill counts,' and your return adds quite a lot of quills to defend Estonia. Continue your service at home in the same way — with professionalism and dedication."
The defense minister also thanked the returning servicemembers' families and loved ones, whose support is likewise invaluable.
"While I believe you are also very happy to be back home, it is your loved ones that are happiest about your return — who have missed and waited for you for a long time," Pevkur acknowledged. "Enjoy the rest of the summer in Estonia, and always remember with pride that, far from home, you have stood for the freedom of the Estonian people and state."
Minister praises Estonian special forces exemplary Mali performance
Defense minister Kalle Laanet (Reform) with the mission medals presented on Thursday, July 13, to special forces personnel who had been involved in Operation Takuba, in Mali
The work of Estonian Defense Forces (EDF) special forces soldiers in the West African nation of Mali has done much to solidify ties with key allies, particularly France, defense minister Kalle Laanet (Reform) says.
On presenting mission medals Wednesday to those who took part in Operation Takuba, in the northeast of Mali, Laanet said: "Estonia contributed to the target unit Takuba from 2020 and with that significantly strengthened the allied relations with France."
"Estonia, France and other allies value your professionalism and dedication particularly highly," the minister continued, via a press release.
"You gained invaluable experience while in Mali, but I'm sure you have also shared your skills and knowledge with your fellow allies, in addition to with the units in Mali. You are to be credited for your considered actions, and the accuracy of your tasks, which are an example for those special forces outfits with long-standing traditions from among the NATO superpowers," he went on.
The minister also thanked the soldiers' families for their forbearance while the deployment was ongoing.
The EDF had been providing a regular infantry platoon, engaged primarily in patrolling and based in the western Malian town of Gao, for several years, as part of Estonia's contribution to Operation Barkhane, a French-led counter-terrorism operation which covered a vast swathe of the Sahel region of Africa across several countries that had formerly been French colonies.
Operation Takuba took part in the northeast of Mali and as noted involved the deployment of the EDF's Special Forces (ESTSOF) component.
Two military coups in Mali and the current ruling Junta's use of Russian mercenaries from the ostensibly private security firm Wagner contributed to a decision by Paris to pull out of Mali, one which was followed by similar moves from Sweden and Denmark, as well as Estonia.
The last of the EDF personnel who had been deployed to Mali left the country by the end of last month, it is reported.
France contributes both land forces and equipment, including the Leclerc heavy tank, and fast jets, to the enhanced Forward Presence (eFP) Battlegroup and the NATO Baltic Air Policing mission respectively.
Estonian troops serving in Mali given French mission medals
EDF troops serving on Operation Barkhane received mission medals. May 2022
Earlier this week, members of the Estonian Defense Forces (EDF) were given French mission medals for their contribution to the French-led Operation Barkhane, an anti-insurgent operation in the Sahel region of Africa.
"The Estonian contingent has done very good work during the mission, and demonstrated extreme commitment to the tasks assigned to them," Maj. Rauno Vahimets, commander of the Estonian contingent in Mali, said according to a press release. "Our time here has proven that we have great cooperation with the French, and I'm positive that the camaraderie forged here will continue to endure."
Since 1962, France has been bestowing the Medaille d'Outre-Mer, or Overseas Medal, to military personnel who have served on overseas missions. The medals received by EDF personnel at this week's ceremonial lineup included the designation Sahel, denoting the region where they served alongside the French.
The newly decorated, nearly 50-strong Estonian contingent consists of the BKN-11 ESTPLA infantry platoon supported by a national support element, whose rotation at Gao began in December and will run through Midsummer.
This is also the final rotation of troops Estonia is contributing to Operation Barkhane.
The French-led Operation Barkhane is aimed at supporting five African countries in the Sahel region — Mauritania, Mali, Burkina Faso, Niger and Chad — in their fight against armed terrorist groups.
Contributing countries also included Sweden and the Czech Republic, with additional support provided by the U.K., Canada, the U.S. and Denmark as well.
Operation Barkhane began on August 1, 2014.
Similar articles:
Оборона → Певкур предложит правительству продлить срок полномочий командующего Силами обороны
Оборона → Эстонские военные тренируются в Испании ведению гибридной войны
Оборона → Великобритания сократит численность войск в Эстонии