Spring Storm 2023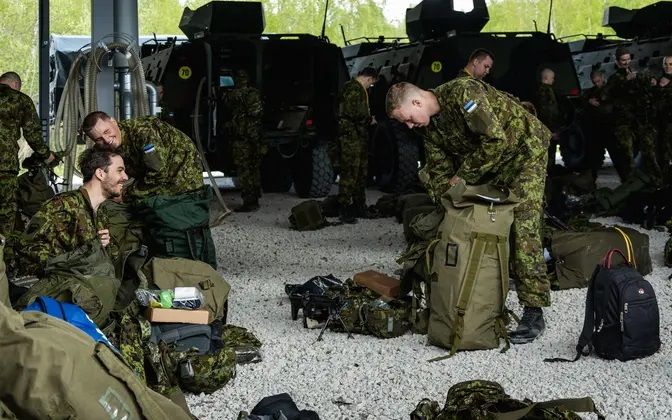 Estonia's largest defense training exercise Spring Storm (Kevadtorm) started on Monday and will last until May 26. Approximately, 14,000 personnel will take part.
Land, air, and naval forces, including the division staff, 1st Infantry Brigade, 2nd Infantry Brigade, Support Command, Cyber Command, and other Defence Forces and Defence League will take part in the annual exercise, totaling around 9,000 personnel. Around half are reservists.
The rest are made up of Estonia's UK-led NATO battlegroup and personnel from 11 allied NATO countries.
"Knowing our homeland landscape is crucial for defending Estonia, and that is exactly what we practice together with our allies during the exercise," said Lt. Col. Feliks Roodvee, the planning officer responsible for Spring Storm 2023.
"Today, the units started forming and then they will move to the field. The expectations for the exercise are high and we have all the prerequisites to fulfill the objectives of Spring Storm."
For the first time, the exercise is led by the Division established last year.
The Defense Forces (EDF) will check the synchronization of battle plans, cooperation between command levels, and the readiness of units to perform combat tasks.
Activities will mainly take place in North Estonia and during this time there will be more defense equipment and convoys on the road than usual.
Additionally, allied military aircraft will be more active in the skies above Estonia, especially Ämari, Tallinn and Lääne and Ida-Viru counties.
Various equipment, including blank rounds, training grenades and flares, will be used in the exercises and the use of heavy equipment, aircraft, and simulation devices generates more noise than usual. The EDF suggests parents explain what is happening to children and keep animals scared of noise indoors if possible.
"We spend a lot of time outside the training areas of the Defence Forces. This time, our most visible footprint and activities are those in Northern Estonia. Where we are trying to defend Estonia both on land and at sea," Maj. Gen.Veiko-Vello Palm told Monday's "Aktuaalne kaamera."
Spring Storm is the EDF's largest annual military exercise, during which military operations planning and implementation are practiced, and cooperation between Estonian and allied units is enhanced.
The Estonian Defense Forces (EDF) Taara Army Base (Taara sõjaväelinnak) welcomed additional US allies last week, bringing the total US military presence in the network to 330 people. The expanded infantry unit is training with the 2nd Infantry Brigade and participates in the Spring Storm (Kevadtorm) exercise in Estonia.
The new U.S. Defense Forces troops who have been deployed to Estonia will continue to serve with the U.S. unit deployed to Estonia last year. The unit, which arrived in Estonia as part of bilateral defense cooperation, is part of the efforts announced by US President Joe Biden at the NATO Madrid Summit to strengthen the eastern flank of the alliance.
"The US Army V Corps has deployed additional people and resources to Estonia in recent months to support ongoing training missions. With the increase in forces, we will be able to work more closely with Estonian Defense Forces units," Lt. Col. Eric Evans, battalion commander with 1st Battalion, 506th Infantry Regiment, 101st Airborne Division, said.
George P. Kent, the United States' ambassador to Estonia, praised the rise in the number of soldiers. "These additional US forces will reinforce our unwavering commitment to Estonia, as well as to bolstering NATO's eastern flank's collective defense and deterrence," he said.
Since the end of last year, the US infantry unit has been stationed at the Taara Army Base and has participated in several exercises across Estonia. The US infantry unit is part of the 2nd Infantry Brigade during Estonia's Spring Storm (Kevadtorm), a large-scale military training exercise, including 5,000 Estonian and 2,000 Allied forces.
Along with US units, the British-led NATO Enhanced Forward Presence Battlegroup is presently stationed in Estonia with French and Danish units as well as Icelandic experts. In addition, there is a British Air Force unit stationed in Estonia as part of the air security mission in the Baltic states.
Exercise Swift Response
A large-scale United States-led military exercise taking place this week will see rehearsals of a scenario where allied forces need to be rapidly transferred to Estonia, in conjunction with the Estonian Defense Forces (EDF) and other allied nations.
Dubbed Swift Response 23, personnel from the Czech Republic, the U.K., Latvia and Poland will join their Estonian and U.S. allies, with one of the focal points being a close to 600-strong para jump over Nurmsi airfield in Järva County.
A total of around 1,500 personnel from all nations are taking part.
Col. Viktor Kanitski, commanding the EDF component of Swift Response 23, said: "Several airborne operations will take place during the course of the exercise, with the aim of rehearsing rapid transfer of allies and of the immediate commencement of assigned tasks."
"For the EDF, it is vital we keep rehearsing support activities pertaining to the host nation – comprehensively ensuring and securing allied reception and coordinating and organization various operations on land and in the air," Col. Kanitski continued, via an EDF press release.
Not only the EDF but also the volunteer Defense League (Kaitseliit) are involved, via the land defense (Maakaitse) rationale which sees both organizations working even more closely together. The Northeast, Northern and Western districts are involved in Swift Response 23.
The exercise also means more allied aircraft, including helicopters and larger transport planes, will be flying in Estonian airspace than is normally the case, through to Sunday, May 14 when the active phase of the exercise ends.
Swift Response 23 runs May 7-20 inclusive, with simultaneous activities taking place in Spain and Greece as part of the larger scale U.S. Exercise Defender 23.
The United States Air Forces in Europe – Air Forces Africa (USAFE-AFAFRICA) is involved, while the exercise is related also to Anakonda 23, taking part in Poland at the same time.
This is not the first time the Nurmsi airfield will be the drop zone for an airborne exercise of this scale. In May 2021, the U.S. 82 Airborne Division, together with the British Army's Parachute Regiment, carried out a night jump.
French airborne troops in Spring Storm drop in Estonia
Close to 200 French Army airborne personnel took part in a parachute drop over Lääne-Viru County Saturday, as part of the ongoing, large-scale Exercise Spring Storm (Kevadtorm).
Spring Storm is the EDF's largest annual exercise, and involves regular troops, reservists, members of the volunteer Defense League (Kaitseliit) and, as with Saturday's jump, allied personnel.
Exercise Spring Storm started Monday and reached its most active phase from Thursday, both for EDF and allied participants.
This year and for the first time, the exercise is being headed up by a divisional structure which was announced last year, in the wake of the changed security situation.
Personnel from the 8th Marine Infantry Parachute Regiment (French: 8e Régiment de Parachutistes d'Infanterie de Marine) took part in the drop, near Viitna, rehearsing a scenario whereby allied units are inserted in Estonia by air, to be followed by cooperation with the Estonian Defense Forces (EDF) troops on the ground.
The main airborne group from France arrived at the drop zone in Airbus A400M Atlas transport planes Saturday morning, accompanied by allied escorts.
The entire jump took around 45 minutes, with the paratroopers' RV points being locations designated by the EDF.
A French armed forces officer in charge of marking the landing area said: "The landing went great. I think today will bring a lot of good to our defense forces."
"We are happy to be on exercise together with the Estonians and other allies, as part of Exercise Spring Storm. This will surely serve to improve all of our defensive capabilities," he went on.
EDF personnel said they found communications with the French airborne troops had gone smoothly.
Communication had been via a mixture of English and French, while on Thursday evening, personnel from the EDF 1st Brigade's reconnaissance company had received an advance group of French paratroopers, to brief them on the situation.
Elsewhere in Exercise Spring Storm, British Army Air Corps Apache and Wildcat helicopters were also on exercise.
Similar articles:
Оборона → Союзники имитируют вторжение из России
Оборона → Эстония отразила вторжение "восточного соседа" Муриниуса
Оборона → В Эстонии проходят крупнейшие военно-морские учения
Оборона → Эстонские военные тренируются в Испании ведению гибридной войны
Оборона → В понедельник начинаются крупнейшие учения Kevadtorm всех времен