French airborne troops arrive in Estonia to train EDF reservists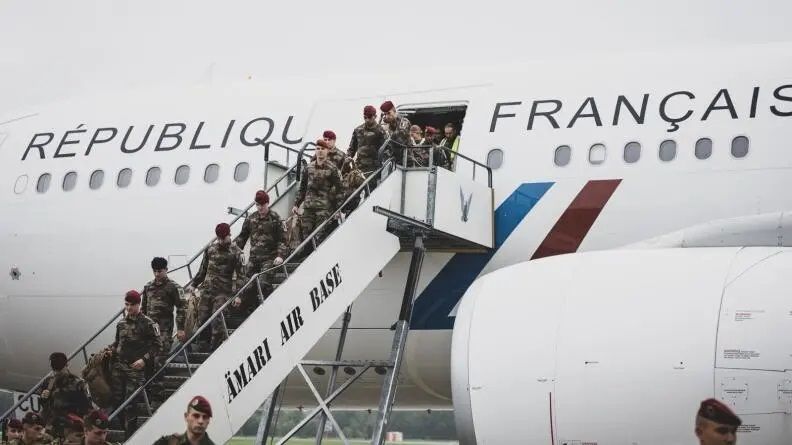 A company-sized unit of French airborne forces arrived in Estonia last week to participate in the training of reservists in north eastern Estonia. The training is a component of exercise Ussisõnad (Parseltongue).
"During exercise Ussisõnad, the French Defense Forces will help train Estonian reservists to operate in a built-up area and will participate in a cooperative exercise in and near Kunda," Estonian Defense Forces (EDF) General Staff Press Officer Captain Taavi Laasik told.
"The French unit will also be involved in training members of the EDF outside [the framework of] exercise Ussisõnad in units of the Northeast Territorial Defense Region as required and on a rolling basis throughout the period of their stay in Estonia," Laasik added.
Indrek Jurtšenko, information officer for the EDF's Northeast Territorial Defense Region, said that the 120 French airborne troops who arrived in Estonia will teach the reservists how to conduct urban patrols, as well as participate in various cooperative exercises and tactical activities.
The company-sized unit of the 1st Parachute Chasseur Regiment (1er Régiment de Chasseurs Parachutistes) of the French Army arrived in Estonia as part of the cooperation between the two countries and will be subordinate to the Estonian division. The unit is not part of NATO's Enhance Forward Presence (eFP) Battle Group, which is permanently stationed in Estonia.
According to Laasik, the French unit is expected to stay in Estonia for a few months.
According to the French Ministry of Defense, the arrival of the unit in Estonia on August 30 demonstrates France's commitment to Estonia's security and the defense of NATO's eastern flank and is a component of the bilateral partnership between the two countries.
The EDF requested a company from the French Armed Forces containing four sub-units and capable of conducting urban combat. In addition to their operational duties, the French soldiers will contribute their expertise to the training of Estonian reservists. According to the French Ministry of Defense, they will be tasked with training up to three units of the Estonian Defense League (Kaitseliit), thus strengthening Estonia's defensive capabilities.
Since March 2017, France has participated as part of NATO's Enhanced Forward Presence (eFP) in Estonia, Latvia, Lithuania and Poland. The eFP is based in Tapa, with the United Kingdom as the framework country.
France's contribution to the eFP consists of a tactical sub-unit with combined arms.
Following Russia's full-scale invasion of Ukraine on February 24, 2022, France reinforced its participation in the eFP, meaning it has had nearly 350 troops in Estonia since then.
In March 2023, France equipped its unit in Estonia with 17 Griffon multi-troop carriers and three AMX-10 infantry fighting vehicles (IFV).
From May 2023, a unit of four CAESAR self-propelled howitzers has also been based in Estonia.
Similar articles:
Оборона → В Тапа прибыли французские танки
Оборона → Франция разместит в Эстонии танки и БМП
Оборона → В Эстонию прибыли 130 военнослужащих группы быстрого реагирования НАТО
Оборона → В Тапа прибыла военная техника для французского батальона НАТО