The beauty of Estonia grew in Narva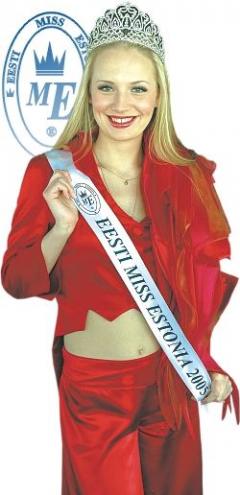 Eighteen-year-old Narva citizen Yana Kuvaitseva recently became Miss Estonia 2005. The resounding success in the prestigious competition has not yet affected the life of the applicant of the Pähklämää Gymnasium - the crown is kept by the organizers of the competition, and its rightful owner, along with her classmates, carefully nibbles on the granite of science, preparing for final exams. We talked about how it was and what awaits the most beautiful girl in the country a few days after the events.
- The first emotions must have subsided. How do you feel in a new role?
- I am a very emotional person and always react violently to various events, but now I try to be more restrained, not to splash out my feelings and thoughts, but to calmly think over my words and deeds, because I really experienced a lot over the past days.
- Increased media attention, conflicting ratings and feedback?
- Exactly. It would seem that I am speaking in simple ordinary words, but some journalists managed to turn them over exactly the opposite.
- Maybe because not everyone likes that a Russian girl won this contest of Estonian beauties?
- Perhaps so, because it happened for the first time in 17 years of the competition. Moreover, two main titles at once - the first princess is also a Russian girl from Narva Marina Kolbina. The result was a shock for me, first of all, since until the last minute I did not even imagine that I could lay claim to the crown. The fact that "there is nothing to catch", said all around and in the days of preparation, and directly at the competition. Marina said that it was necessary to relate to everything easier and absolutely not to think about the results, so I did. The maximum that counted - to enter the top three. And even that, perhaps, because this year out of ten candidates there were seven Russian girls. It turned out that in another competition, where she was sure of victory, she lost, and where she didn't even hope, she turned out to be the best.
Those who did not like the decision of the jury to recognize the girls from Narva are probably looking for something to complain about.
- For example, to a dance you performed?
- It was a creative number in the talent contest - an oriental dance, which was set for me by the young choreographer Masha Trofimova. I performed it in normal clothes, and there was nothing to do with striptease in it. Other contestants looked even more frankly, and as for the "seduction of the jury" - it's generally funny: it consisted of only one man.
Further
- Why did you turn to Masha for the performance of the dance, and not to Papa, the famous choreographer in Estonia, the head of the Street Ballet, Yuri Kuvaytsev?
- It so happened that we live in different cities. All my childhood I sang in my mother's band, but I didn't know how to dance, and moreover I never went out with it. As the saying goes, the immensity cannot be grasped, once I chose music and did a lot of it, graduated from a piano music school and sang with my mother (Marina Kuvaytseva - head of the folklore ensemble "Supryadki." - I.K.). She was not going to dance at the competition, primarily because she was afraid to let her father down. I decided to sing, because I really know how. And also because usually everyone dances, and songs at such competitions sound infrequently. Probably fate intervened - I forgot the music recording disc at home ... I had to urgently recall the dance that I performed in January at Cirda Miss, where my dance debut was. However, time has already passed, so by and large, improvisation still turned out.
Probably, when your parents are creative people, there is something in the genes and this "something" helped me in an extreme situation.
She danced without thinking about anything, just expressed her feelings. Then she waited with fear what her father would say, and the sounding "I AM YOU ARE Proud" was like the highest score.
"Does fate often interfere in your life?"
- Probably. I also got to Kirda Miss, one might say, by chance, finding myself in the right place at the right time. In general, I never set myself the task of winning any titles, including Miss Estonia. It's just interesting to try your hand.
- How did your parents react to the idea of ​​participating in the competition?
- In 2003, when I announced my desire to perform at Miss Regatta in Narva, I was very wary. Mom recalled examples when the young didn't succeed and they developed inferiority complexes; I was afraid that, given my emotional nature, something like this could happen to me. But when I lost at the first competition and not only didn't any complexes arise, but, on the contrary, interest and curiosity added, she began to calmly relate to the fact that the next year I went to Narva Spring. (There, Yana became the first princess, and in the winter of this year at Miss Kirda she won second place and the audience's prize. - I.K.)
When I considered whether to participate in Miss Estonia, and said that I would nevertheless be preparing for the exams, I heard "well done". And a little later she said that first I would participate in the competition, and then I would prepare for the exams, I heard the same word. So they gave me complete freedom. But still, my parents were very worried about me.
- Did previous experience help?
- Undoubtedly. Despite the fact that during the qualifying events we traveled to Tallinn every week and participated in some kind of castings, no one worked with us there. Each participant could use only the baggage of knowledge or skills that she had. And if a person first stepped on the stage, it was immediately visible. In two years I went through a huge not only theoretical, but also practical school - how to behave on stage, how to show or, conversely, restrain my emotions. It is important not only the ability to walk on stage, but even to stand! Try to withstand even a quarter of an hour under the gaze of hundreds of prying eyes so that every viewer feels that your smile and charm are intended only for him. It is very difficult, and to learn this, painstaking training is needed.
I believe that I got into the top ten finalists thanks to the many people who helped me - photographers, organizers of regional competitions and so on. So, taking this opportunity, I once again thank all of them.
- Do you have anything to compare with, how do you evaluate the level of the Miss Estonia 2005 contest?
- There was no show there, that's for sure. But this was not a task, the organizers did not care about preparing a full-fledged entertainment program for the audience. Thanks to this, the jury was not distracted and could evaluate the participants adequately. Competitions went on without interruptions, time did not drag out - and this made us calmer.
- A backstage setting?
- Judging by other contests, the situation at Miss Estonia seemed to me, as it were better to put it, the most distant, or something. The girls did not even try to get closer to each other, to communicate more closely. Now I have only one relationship with them.
- How did the Estonian rivals react to your victory?
"Absolutely normal." For two days, one of them constantly repeated: "You are beautiful, you will win." I even felt awkward. Then everyone congratulated, if someone was dissatisfied, then did not show it. There were definitely no evil words or views.
- What prizes went to the winner?
- Flowers and an invitation to other contests, but to go, for example, to Miss Universe, we still had to find money, so we got a "right to look for sponsors". But I still can't go, but in the fall I'll probably go to the "Miss Baltik Sea". A license to participate in it costs a lot, and the fact that I do not have to pay, in my opinion, a very significant gift. Well, if it's about the contest itself, then the biggest gift that was presented is a huge bottle of champagne. Yes, even backstage - a personal gift from a makeup artist who gave me Elizabeth Arden cosmetics.
- In what cases can you use your crown?
- The crown is a very expensive thing, and, probably, it is safe and sound in the agency's office, because it is transitory. I vilified her at banquet receptions after the competition, but I was not even interested in what events I could wear more. Honestly, I do not care about this question, because by nature I am a rather modest person and in my ordinary life I try not to attract attention, and I don't want to wear a crown. Moreover, it is quite heavy.
- We heard you think about the profession of a journalist. What attracts you to it?
- She spoke not only about journalism, but also philology, now I am more inclined to the latter. Why? I just like it, I want to know languages ​​better.
"Have you received any proposals from Miss Estonia?"
- Speaking of work, none. I'll take part in a charity event - on Sunday I will deliver Easter gifts to Ida-Viri orphanages. There are other ideas, but there are no concrete solutions yet, so it's probably too early to talk about them.
- Are there situations in life when beauty helps out?
- Sure. I had to face the fact that a beautiful girl was more willing to provide some help to people who, in principle, were not used to doing this. Probably, they still pay attention to the beautiful ones.
- What is Miss Estonia doing today?
- Final exams are on the nose - and that's it. It's all: all the forces are devoted to training. Already wrote two trial ones. And next Friday at the school "Last bell", in full swing preparing for this event.
Similar articles:
Красота → Победителей не судят?
Красота → Валерия Гребенюк - «Нарвская весна 2004»
Красота → Яна Кувайцева: От короны болит голова