Textile industry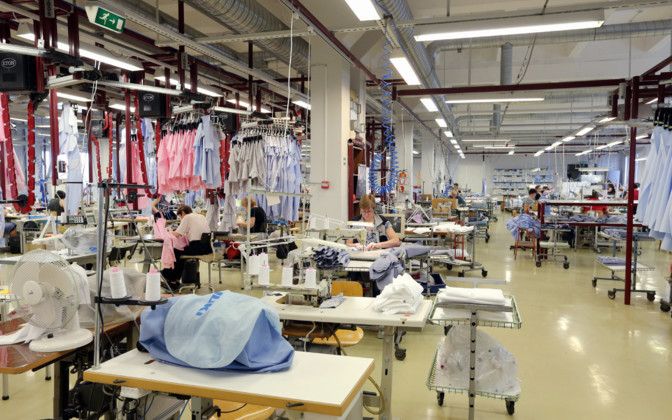 The textile industry in Estonia is not in the most favorable position: it is characterized by a high cost of production, including wages, as well as low sales.
"In Estonia it's impossible to sew cheap clothes. In large chain stores, men's shirts can cost 10 euros. In Estonia, shirts at this price can never be made," said Raul Saks, Executive Director of Sangar and Marat.
Marat has long moved its factories to Belarus. Only design is done in Estonia: prints, logos, embroidery and embossing. Raul Saks believes in the future of the clothing industry, but believes that it should change.
"I personally believe that this area will live, but with a focus on the organization of production, brand development and sales. The cost of labor over the past few years is very high and can't simply compete," Saks added.
A similar opinion is shared by financial analysts, who consider the main task to increase added value.
"If we want our salaries to continue to grow rapidly, we want to pay people decent money and increase their welfare, then we must move towards increasing the added value of the goods. We cannot get this without changing anything. The option is to reduce the cost of production" "Said LHV economic analyst Cristo Aab.
You can find clothes for every taste and age in the stores of Baltika Grupp, as the company still operates with five brands for various population groups.
During the shooting of the plot, the European MP Yana Toom accidentally fell into the lens of the "Actual Camera".
"What are your destinies here? I'm leaving soon and decided to buy a skirt for myself. And I bought it. It's very sad, because the closure of production is new unemployed, it's always bad. Well, it's really annoying, because there are not so many Estonian manufactures, Ian Toom commented on the closing of the production in the Actual Chamber. - As for Estonian fashion, you can argue about quality, but everything is fine with the design. It is a very pleasant feeling when you come to Brussels, and they ask where you got such a wonderful coat ? "
Brands Monton, Mosaic and Bastion will be merged under the name Monton, while premium brands Ivo Nikkolo and Baltman will remain unchanged. The company, whose loss over the past year is estimated at about one and a half million euros, decided to close production in Tallinn and Ahtme and reduce all employees involved in the factories. They plan to sew in the south.
"The model in the clothing business is very simple - two-thirds of the cost is labor force. Very efficient people work in our factories in Estonia. But the same efficient people work in Serbia and Turkey. And if they get paid half as much there, then arithmetic isn't our benefit, "explained Meelis Milder, Chairman of the Board of Baltika Grupp.
Workers will be phased out in stages, but the concern is not going to dismiss designers and fashion designers. Franchises in eastern markets - in Belarus, Russia and Ukraine - will also fall under tailoring scissors.
The history of Baltika concern began in 1928, when raincoats began to be sewn in Tallinn. In 1959, a sewing factory came under reconstruction, it began to produce men's suits. Then the name Baltika appeared.
One of the most sensational news of the week is mass cuts at the Baltika concern. Unemployment Insurance Fund experts believe that you should not worry, since seamstresses are not enough in all counties.
Last year, Baltika celebrated its 90th anniversary, reports "Actual Camera +".
In the distant 1928, a workshop for sewing men's raincoats was opened. After 30 years, the company began to bear its current name. Then Baltika sewed men's suits. Women's clothing here began to be sewn relatively recently - only in 1988. After Estonia became independent, Baltika experienced a number of major changes: the opening of stores throughout the country, as well as outside its borders in Latvia, Lithuania, Russia, Ukraine, Poland and the Czech Republic.
After a large-scale crisis in 2008, representative offices in many countries had to be closed. Now this has affected the Russian franchise. Baltika intends to concentrate on the markets of Latvia, Lithuania and Estonia, and tailoring will be completely transferred to other countries.
"We began to transfer production outside Estonia already 20 years ago. For various reasons. First of all, this is because many products that we offer to our customers are not manufactured in Estonia. Or they are not manufactured efficiently and efficiently. According to last year, We already have two-thirds of production, or almost 70% was outside of Estonia. We already have extensive experience there, and we can guarantee the quality to our customers, "said Baltika Group CEO Meelis Milder.
The news of upcoming cuts at Baltika hit the media, and it can be assumed that the employees of the company do not feel very confident on the threshold of tomorrow.
Mostly seamstresses and employees involved in the heat treatment of finished products will fall under the reduction. It will concern the technologist-standardizer, cutter, inspector of finished products and equipment maintenance technician.
The average age of employees falling under the reduction is 50 years, these are mainly people with professional education, although some graduated from the university.
Baltika has not yet made an official appeal to the Unemployment Insurance Fund, but cooperation is already underway. The Ida-Virus branch of the Unemployment Insurance Fund said that workers in Ahtmei production should not worry - there are other sewing enterprises in the region. There is good news for those who work in Tallinn: companies interested in hiring new employees have already applied to the Unemployment Insurance Fund.
"Today, in all counties, there is a shortage of specialists in the field of sewing production, and therefore workers should not worry. But most importantly, do not forget: in order to find a job, you must look for it," explained the chief specialist of the department for responding to cuts. unemployment rate Lyudmila Kondrashova.
"Most likely, each employee will decide for himself whether he wants to continue working in a similar field, for example, in sewing production, or wants to try himself in some new direction. If he needs help in choosing his future specialty, then we have career specialists "In principle, now, as working people, they can contact career counselors and discuss their future plans," Kondrashova added.
Baltika also promises to provide employment assistance: meetings will be organized with potential employers, information will be provided on how to register with the Unemployment Insurance Fund. They will also tell you about what compensation and benefits people are entitled to.
Baltika promises to maintain product quality
At the same time, the company promises to maintain the quality of its products. Sewing in Turkey will make it possible to use Turkish fabrics without transporting them from place to place. As for the beloved cut of products and design, these stages will be fully implemented in Estonia in order to take into account the needs of residents of the Baltic countries.
"In Estonia, Latvia, Lithuania, tastes differ. Our customers have different tastes. If a Monton client prefers cleaner lines, a minimalist style, then the Mosaic client wants more fun prints and colors. When Bastion, Mosaic and Monton find themselves under one roof "We'll all think through and take into account the strengths of each brand," said Kaye Kaas-Oyvere, Baltika Group Collection Manager.
The company really has many strengths - at least the fact that the company, to the envy of its Baltic neighbors, remains afloat in the era of the dominance of the mass market and continues to sew, taking into account the tastes of the residents of our region.
However, designers working in Estonia do not support the concern's decision to transfer production abroad and believe that this step is likely to divert the concern from the development path. After all, the future lies in individual tailoring and proximity to the consumer.
"In Estonia, people want clarity, they want to see where it is made in Estonia. And it is important for my brand that the fabric is made in Estonia," commented the founder of the LoLo brand, Janika Stets.
"When a customer arrives at the store, he sees on a T-shirt that this fabric was woven here, dyed here, produced here, not to mention that the design was made here. And then the customer is so happy with this product that he is ready to pay, I think ten times more, "said Christie Parn, brand founder Ellen Richard.
"My brand is a brand of slow fashion. This means that the number of products is very limited, these are very high-quality products and they always find their client. In addition, I always go to meet the client. He can come, we will pick him a pattern and colors that he likes it better, we will correct the patterns. And, of course, large concerns, large manufacturers cannot provide such a personal approach, "said Larisa Kondina, founder of the Mekoome brand.
Yes, until the mass sewing of clothes is going anywhere, but every year the number of people who think about their consumer habits is growing, and each of us wants to open the closet and not stand in front of him in deep thought, but to put on his favorite quality things.
It is not known what awaits the fashion world, but one thing is clear - we will not stop wearing high-quality and beautiful clothes, so the golden hands of seamstresses will always be held in high esteem.
Similar articles: